Uzbekistan and Kazakhstan will jointly create the International Center for Trade and Economic Cooperation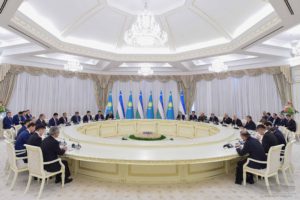 During the negotiations of the President of the Republic of Uzbekistan Shavkat Mirziyoyev and the President of Kazakhstan Kasym-Zhomart Tokayev in Tashkent, the two sides agreed to create an International Center for Trade and Economic Cooperation.
The new center will be called "Central Asia". It is planned to create it following the example of the Khorgos International Center for Cross-Border Cooperation (ICBC) for duty-free trade between China and Kazakhstan.
An interdepartmental working group will be established to develop the concept of the future center. It is expected that this will allow to achieve the goal – to increase mutual trade to $ 5 billion (now $ 2.5 billion).
The ICBC "Khorgos" consists of the Kazakhstani and Chinese parts located on the border adjacent territories of two states with a total area of ​​560 hectares and connected by a "Special crossing" passing through the state border.
The uniqueness of the project lies in the fact that within the territory of the center of the person, the goods (cargo) and vehicles move freely, without the need for paperwork.